Art journaling is one of my all-time favorite therapies and stress relievers. I love to sit down with my coffee, pick a quote or idea and run with it. I never know where my thoughts will take me. The pages I create never end the way I pictured them when I began.
That is the beautiful thing about art. It flows, it changes, and it inspires ideas and emotions.
I know an empty page can be intimidating at times. Especially in a brand-new crisp journal. I am going to share a few prompts I put together and used recently.
This has been a hard year. I feel like most of us are stressed and anxious. Coming out of Covid and all that was included in that has been a hard journey for most. I feel a bone deep exhaustion I don't think I have ever experienced before.
I needed some inspiration to shake me out of the grayness I was feeling. Just that general feeling of "bleh." Journaling these prompts worked so well for me I thought I would share the list.
I hope it helps you get your creative juices flowing and please feel free to share your creations with me. I love to see how differently we all interpret and share the same idea.
10 Art Journaling Prompts To Get You Motivated
The color orange.
Quote: "Just before sunrise there is a dark night."
Feathers
Journey
Laughter
Stars
Flowers
Flight
Rainbows
Abstract Figures
I have to take a deep breath as I upload and share these. Art journal work is private and done to release my stress. I always get butterflies before I share it. I create artwork in my day job that is shared all over the place daily, but this is created in my private lair, my craft room. Where all stress is left at the door. This makes it feel different. I hope you enjoy.
Have a look at my journal pages created with these prompts: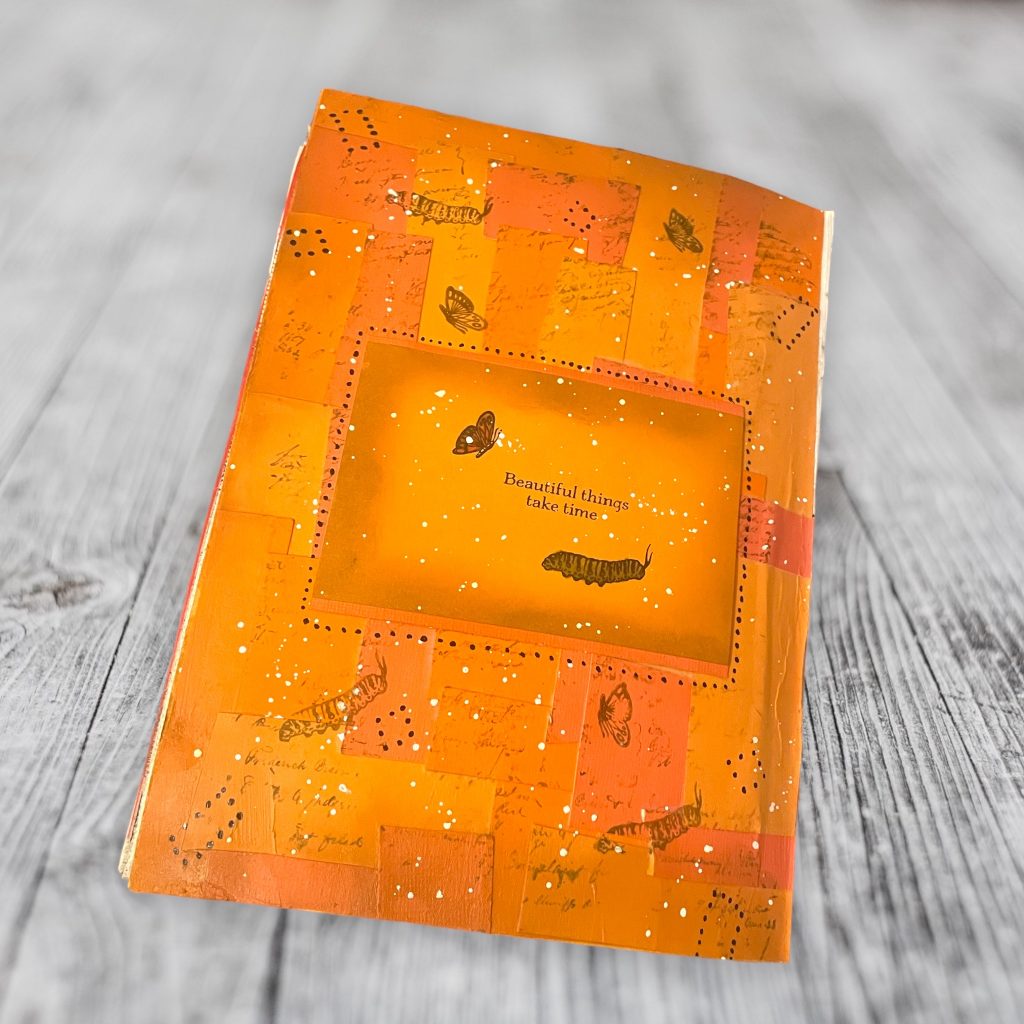 The Color Orange: I created this using a sample of orange cardstock scraps from my stash. I collaged it into my journal using Liquitex Acrylic Medium. Then I used Spectrum Noir Harmony Opaque Pigment Ink in Friar Brown to add shading. I used various stamps to create some activity in the background using black Archival Ink by Ranger. To finish it off I splattered with Dina Wakley White Gloss Spray. I love collaging scraps of paper for a background. It gives great texture and is a soothing, calming activity to boot.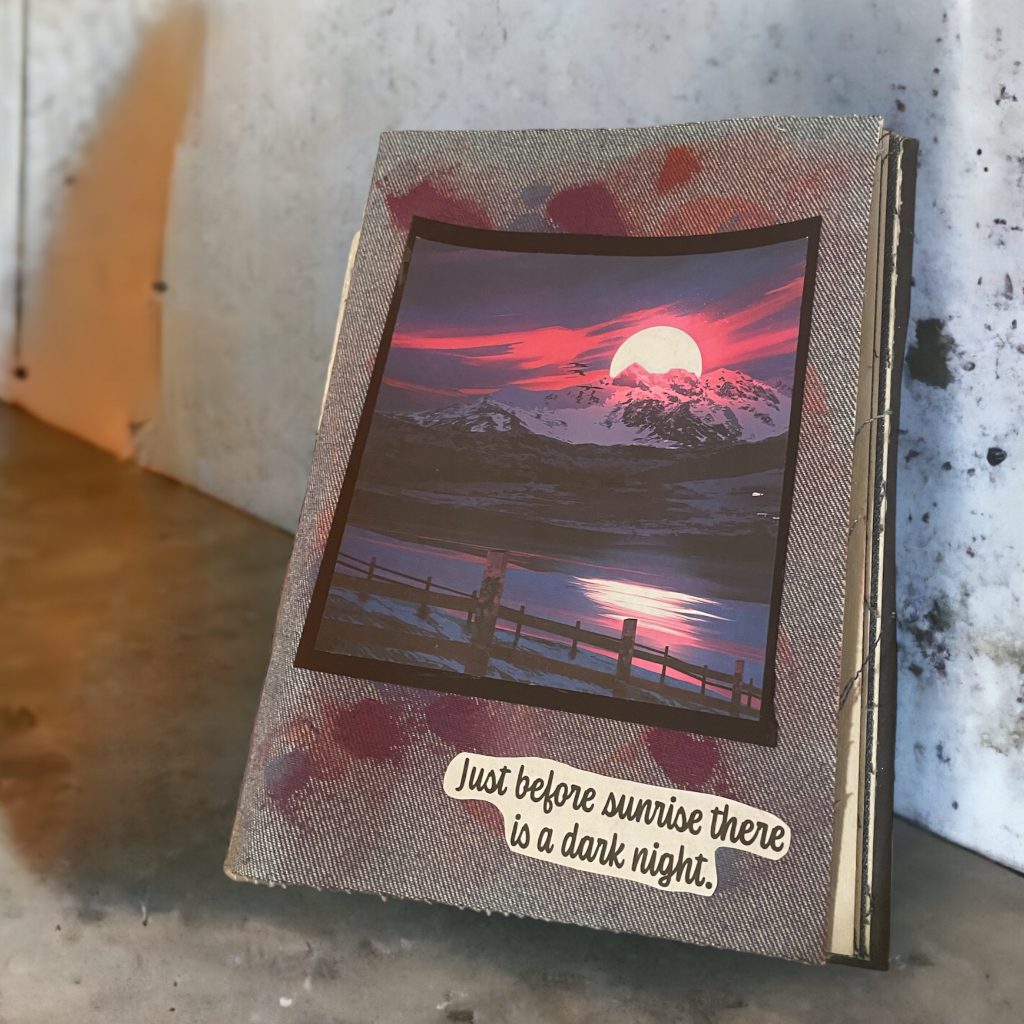 2. Quote: "Just before sunrise there is a dark night.": I stayed simple with this one. This is on a denim page from my Dina Wakely Art Journal. I painted the background with very abstract strokes with Tim Holtz Distress Paint. I printed a sunrise image I created for another project years ago then matted it on black cardstock. I fussy cut a printed quote and called it done.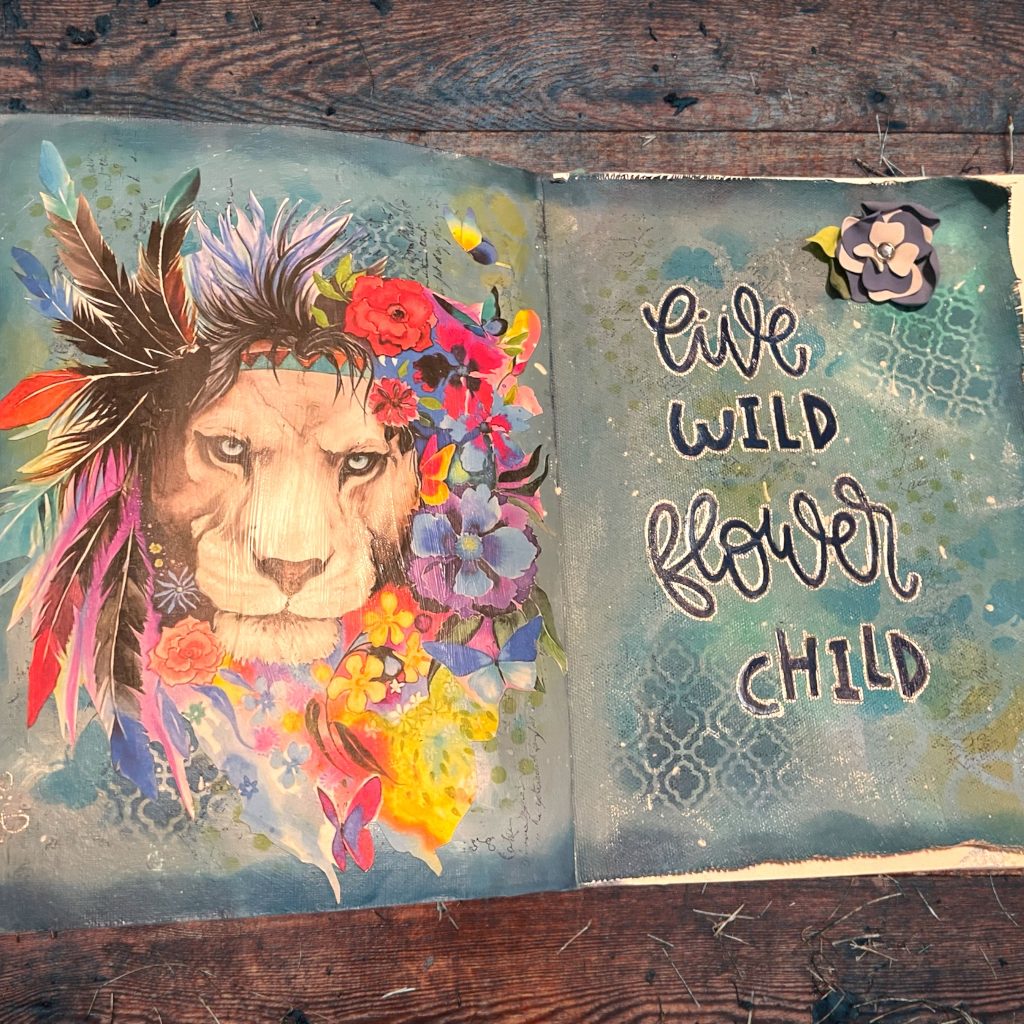 3. Feathers: The background for this one was done by painting various strokes with Tim Holtz Distress Paint. I then used stencils with slightly darker shades of paint to randomly place interest and texture with no rhyme nor reason. I added some splatters with Dina Wakely White Gloss Spray. The main image is an image I found on Google, printed and then fussy cut. (No name was given for attribution) I used Liquitex Acrylic Medium to seal onto the page. I cut the sentiment out with my Cricut and outlined with a very leak white acrylic marker. 🙂 The flower was a flower created with Crafters Companion Flower forming foam that I found stashed in a box from an old practice session.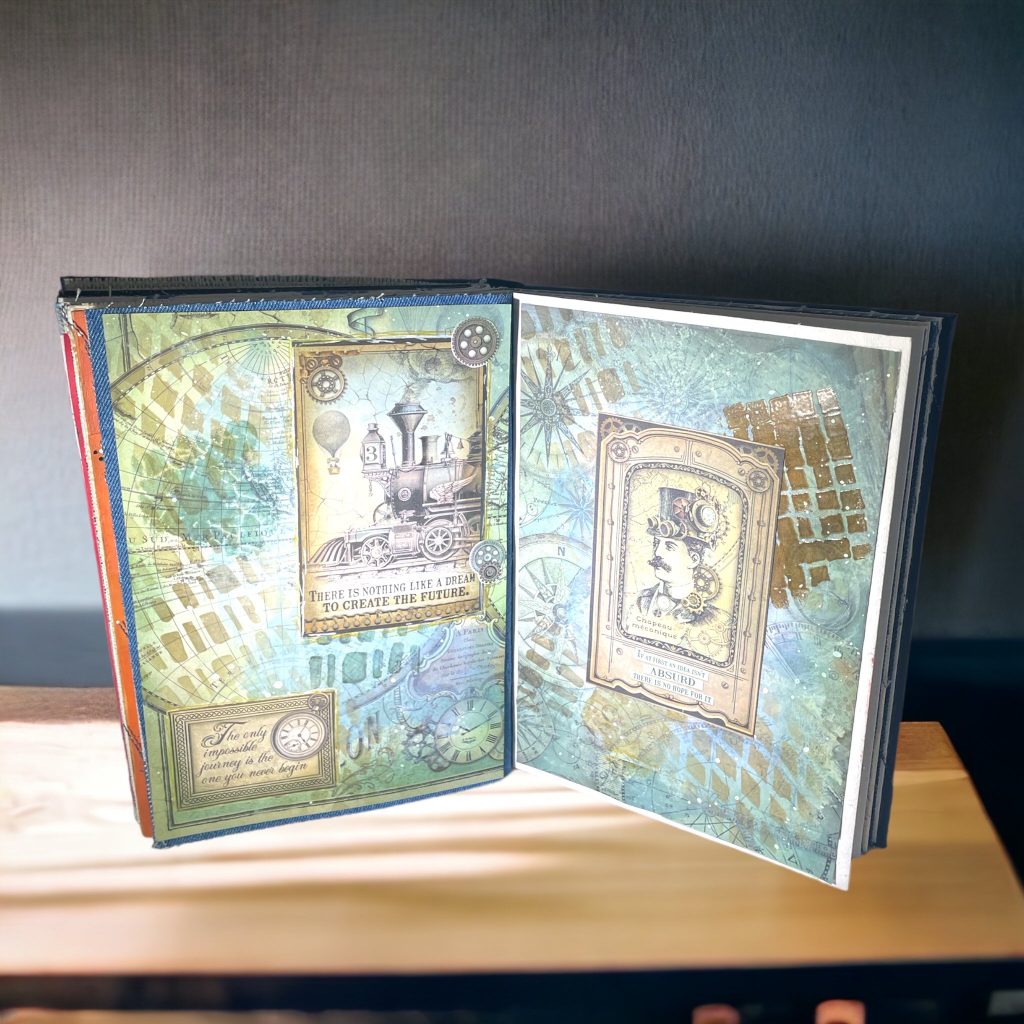 4. Journey: I used several paper packs by Stamperia for this layout. I added Tim Holtz Distress Paint to add interest and then used stencils with Tim Holtz Distressed embossing glazes to add in texture and color. I cut out ephemera from the Stamperia collections and then used Dina Wakely White Gloss Spray to add splatters. I used gold and white gel pens to outline and highlight.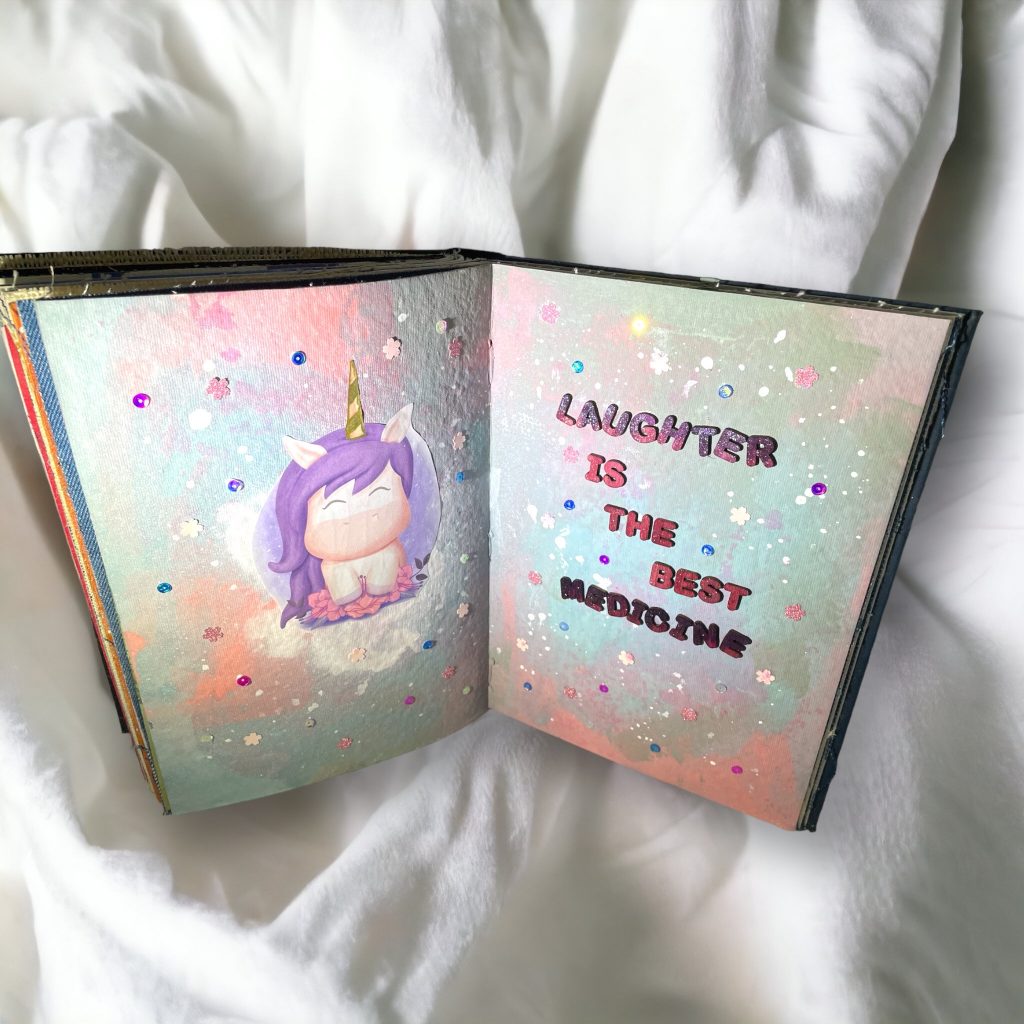 5. Laughter: This one was SOOOOOO fun! I printed a cute little unicorn graphic and fussy cut her out. I love her implied smile! I used Tim Holtz Distress Paint to cover the entire background then did some ink smooshing to add texture. I colored some wooden letters with Crafter Companion glitter pens and added those with sequins. I put some flower negative space scraps I had from a past Cricut project and think it is adorable. I love when I can find a use for something that would have ended up in the trash. I am not a hoarder! I am saving the planet 🙂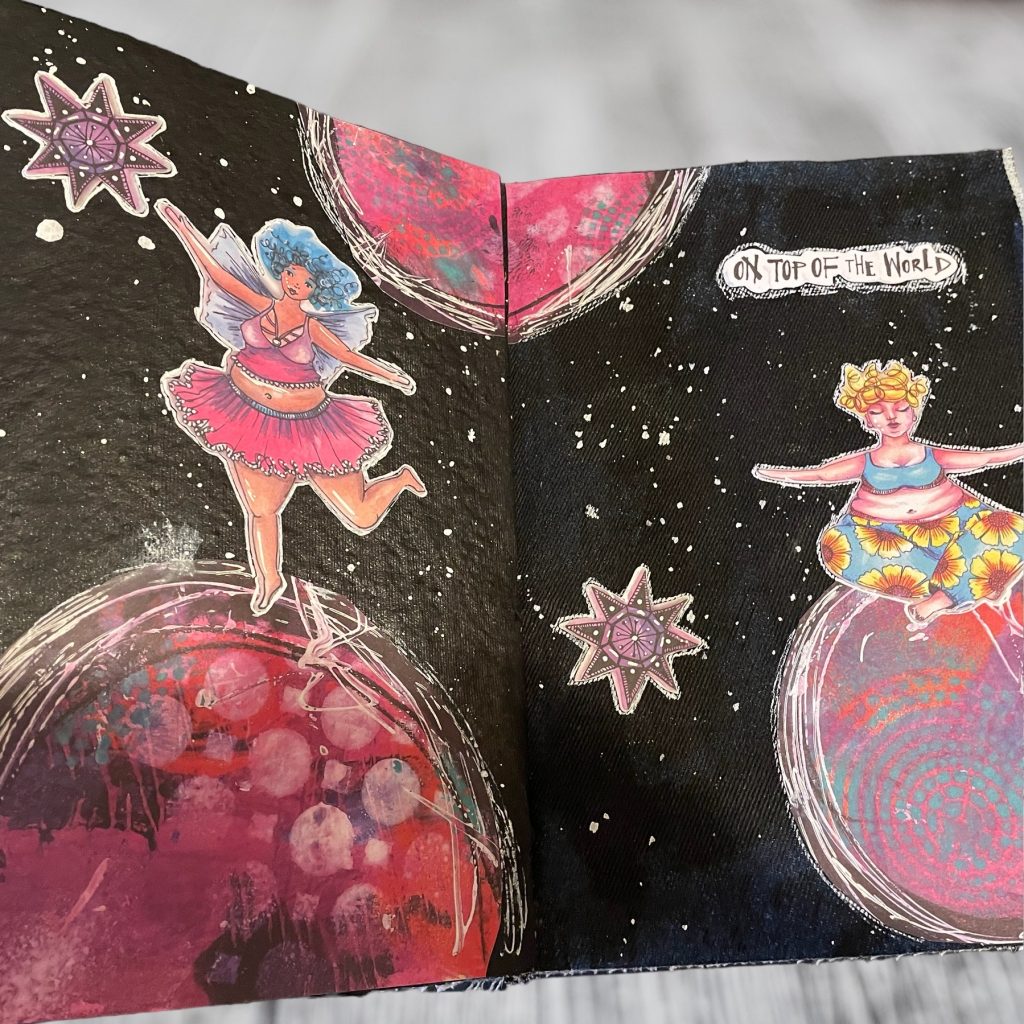 6. Stars: Ephemra overload. For this layout I covered the pages with matte black gesso, splattered with Dina Wakely White Gloss Spray, cut out circles from cardstock, placed ephemra around the page and Viola! I used a white gel pen for some highlights and lines and it was a wrap. I love these beautiful ladies!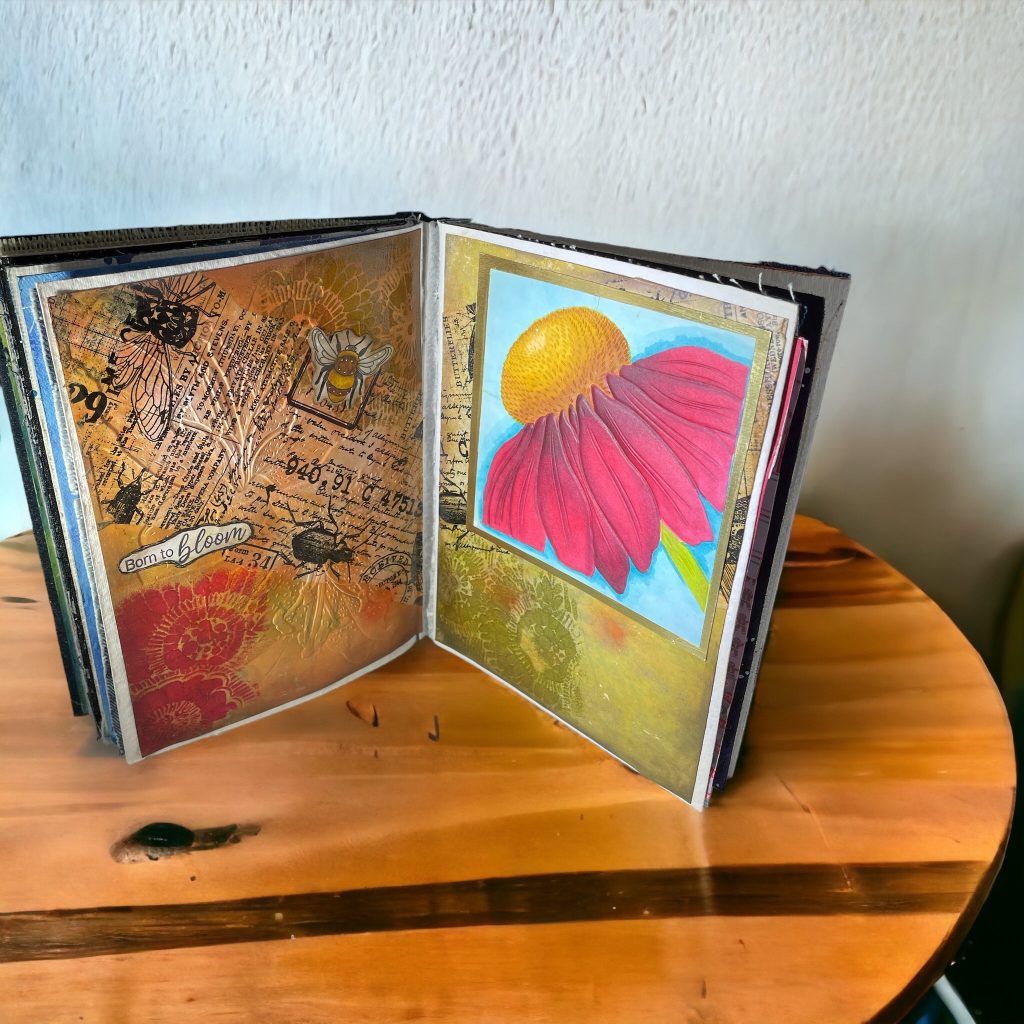 7. Flowers: In all transparency this page began with a test. I always sample new supplies when I get them. This is the first flower I tried with the Crafters Companion Flower embossing folder set I picked up a few months ago. I have also been enjoying the Spectrum Noir Academy of Colour series and classes, so it worked well with that since I used alcohol markers from that kit to color and add texture to the flower. The background was made using Tim Holtz Distress Paint and a few embossing folders I have in my stash. I also used a piece of Tim Holtz collage paper I had in my scrap stash to add some interest to the background. The bee stamp is also a part of the Academy of Colour series. So much fun!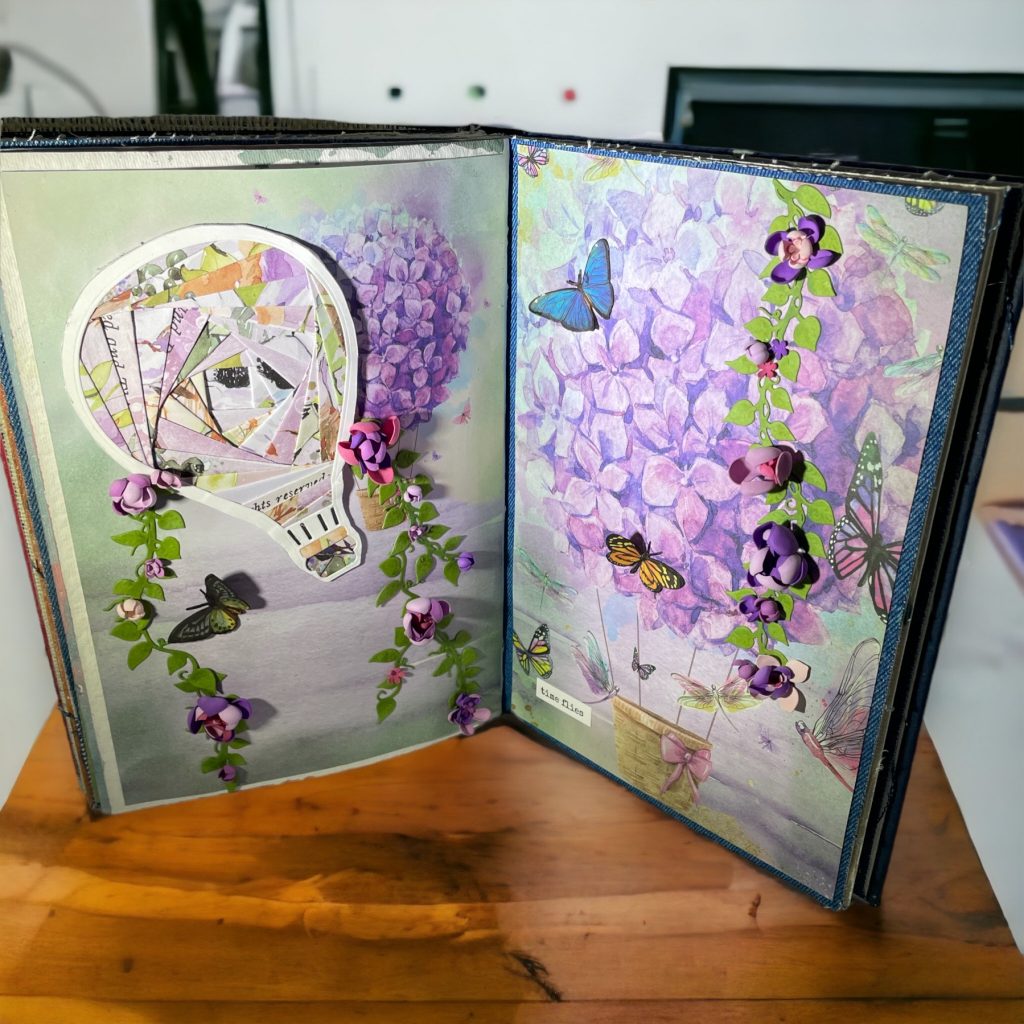 8. Flight: Oh boy, this one! So I went a little overboard and just kept adding and adding… Just about everything used in this one was from Crafters Companion. The hot air balloon was made with their Iris Fold Dies Collection. The background is from their Enchanted Dreams paper collection. The vines and flower dies are from their Wisteria collection. I used Tim Holtz distressed paints to mute the background a bit in some places and around the edges to add interest. The flowers were made with Crafters Companion flower foam and in person they look so real! This was a fun page even if I did get a bit obsessive.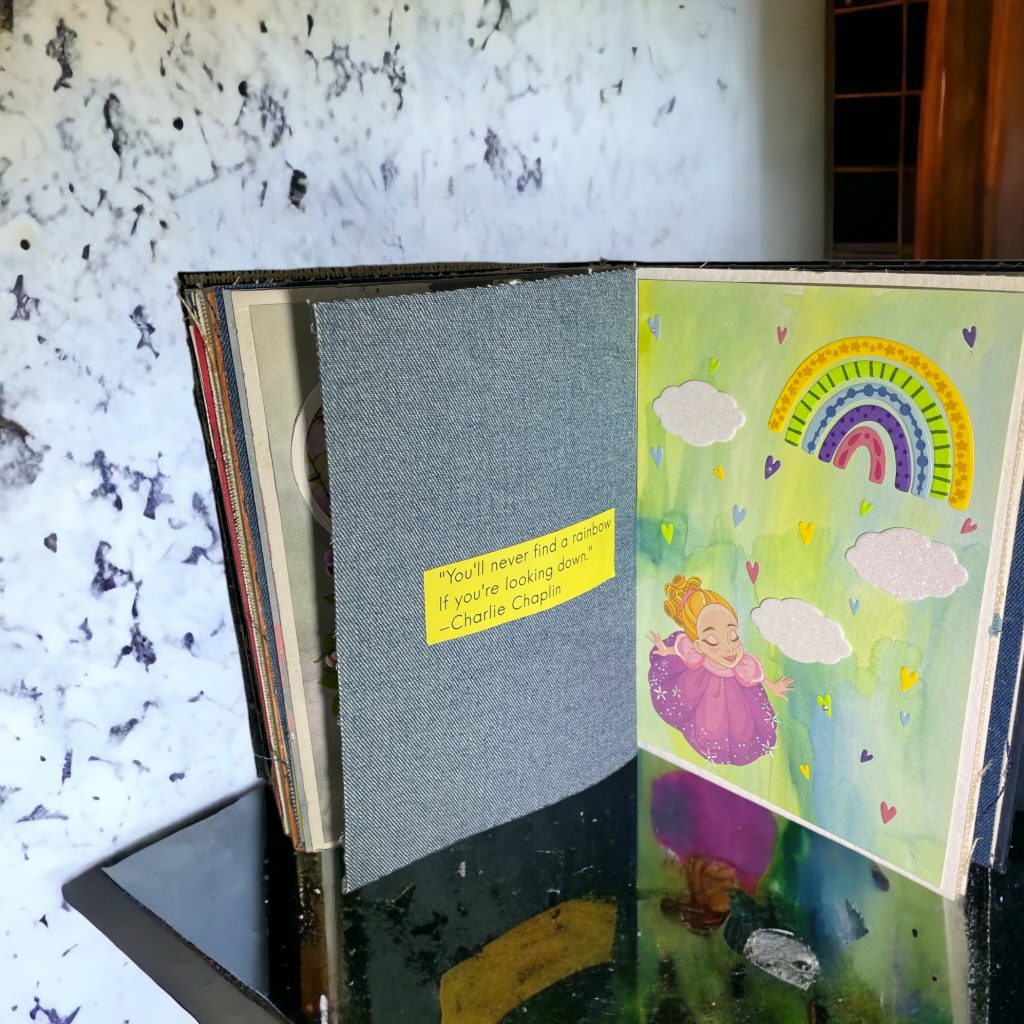 9. Rainbows: Bright, simple and tons of fun! Just about everything in this one was made from my scrap bin. The rainbow was made with a Pink and Main Crafty Courtyard monthly subscription kit from a couple of years ago. The stamp and die set make a layered rainbow and is so much fun! I love Pink and Main's monthly card kit. It really helps you build your stash with amazing, high quality products you will use for years! The clouds were made from scraps of Queen and Company's self-adhesive glitter foam. Even the background was a watercolor abstract I created years ago and still had in my stash of backgrounds.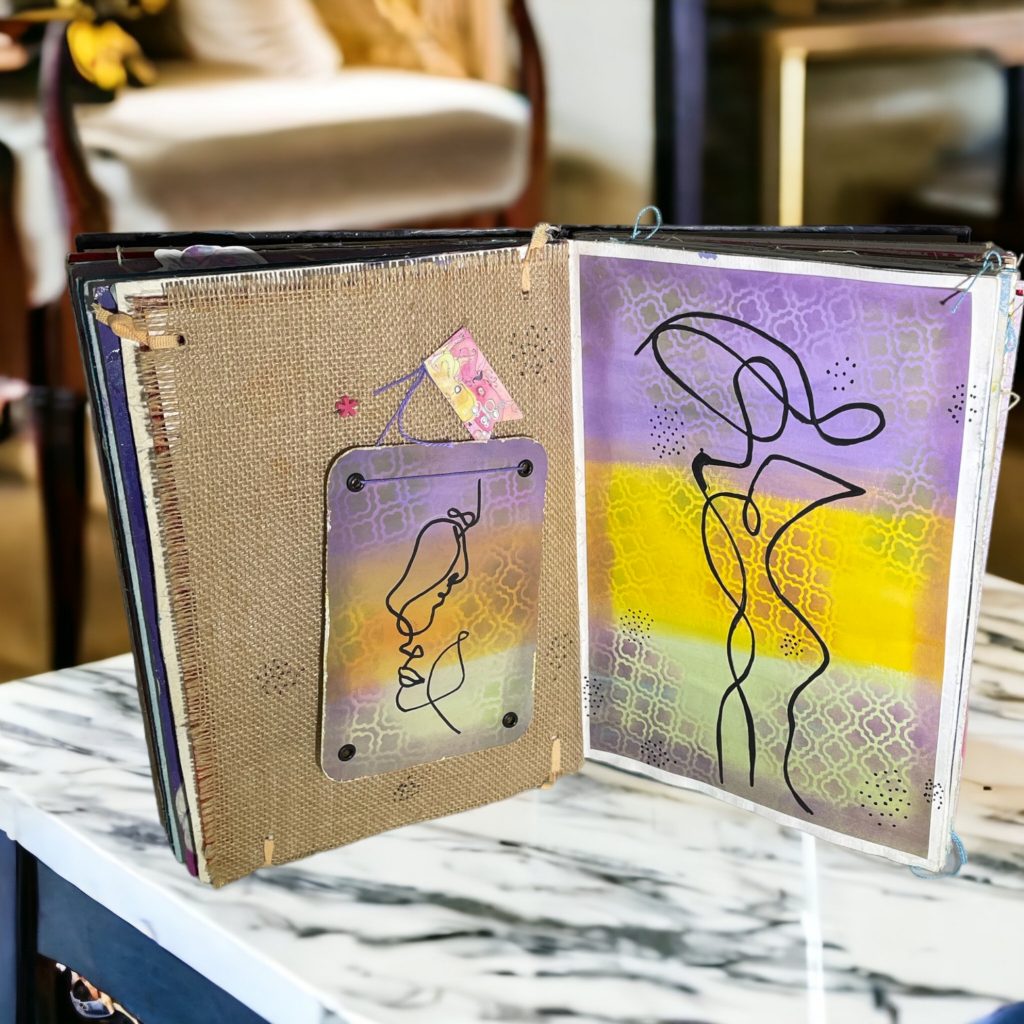 10. Abstract Figures: I am fairly new to the Dina Wakely Mixed Media Journals. This is my second one. I love the different textures in these journals, but they throw me sometimes. I made a tag for this layout. I painted it with Tim Holtz Distressed Paints. I used a stencil with the same colors to add a little texture. I used my crop a dile to put the grommets in the corners and pinned it to the canvas with a cute little pin I found in my stash. For the main page I followed the same steps and then glued the page to my journal. I do that a lot. It is a lot easier to work on a flat surface with cardstock or watercolor paper and then adhere it to my journal. Especially when I get to the end of the journal. Mine are also so fat they bust at the seams by the time I am done with them. I think I see a book binding class and tutorials in my future so I can learn how to recover them all with bindings to fit my thick, textured pages.
I hope you have enjoyed the journal pages I have shared with you. If you have never tried art journaling, I highly recommend it. It is such a stress reliever. There are a million resources and books out there to get you started. One of the YouTubers that got me obsessed with art journaling is Vicky Papaioannou. Check out her channel. She is such an amazing artist and taught me so many awesome techniques through her videos. She has some amazing collections on Spellbinders Paper Arts as well. You should have a look if you love unique stamps and dies to make your cards and paper crafting stand out.
I have been away for a while. I recently was diagnosed with Lupus. It has been a journey learning to live with it and keep productive. I could barely keep up with my day job at first, but now I am doing much better and will be getting back on track with free art and paper downloads soon.
I hope you have an amazing day and please take the time out today to create something! Art is medicine for the soul.